You wouldn't perform your own surgery would you? Defend yourself in court? These are tasks best left to the professionals. People with thousands of hours of experience under their belt. If you want the best outcome possible you turn to the pros. Like all truly honed skills in life, true razor sharpening skill comes from thousands of hours of practice. Honemeister Lee has been sharpening thousands of razors for over a decade. Don't take our word for it, see what other people are saying.
We Sharpen Western & Japanese (Kamisori) Straight Razors and Rolls Razors
We do not sharpen straight razors from Pakistan, China, or other non-functional decorative pieces. Gold Dollar straight razors are acceptable, contact us to make sure.
---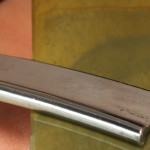 Honing – $20
Is your razor feeling a little dull lately? Send it to Honemeister Lee for resharpening to get your precious heirloom back to shaving.
Turnaround time is 2 business days.
---
Edge Repair – $30
If your razor has damage, chips in the edge, a frown (or two), a nick, or is exceedingly dull, we can fix that for you. Chips in the edge larger than 1mm may not be salvageable, contact us to make sure.
Turnaround time is 2 business days.
---
Straight Razor Restoration – $79
Our Razor Restoration Service will take your razor from dull to amazing! We start by sanding off any rust, tarnish, and small pits. Then, to properly polish the steel, we use specialized compounds and rouges to safely polish the afflicted metal. The result: a beautiful new surface that is polished to a near mirror finish- making your straight razor look clean and new. We then fix any minor problems and Truly Hone your new heirloom!
Our Polishing Process - Turnaround Time: 1-2 weeks
---
Custom Scales & Sharpening – $99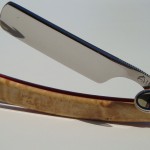 Is your razor looking tired and old? Tired of staring at those ugly plastic scales? Nothing jazzes up an old straight razor like new shoes! We offer custom scales made from wood, horn, or bone. These scales are custom fit to each razor – ensuring the correct balance and performance.
We typically carry: Bone, Horn, Madrone Burl, Spalted Crotch Maple, Redwood Burl, Walnut Burl, Rosewood, Orange Paduak, Blackwood, Cocobolo, Purpleheart, Bubinga, Narra, Bocote and Zebrawood. Email for availability.
Please include your first and second choice to ensure the fastest turnaround time. 4-8 weeks.
---
Full Package – Custom Scales & Restoration – $159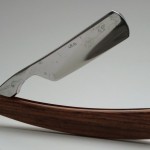 What is better than our restoration service? Our restoration service combined with custom scales for your newly refurbished razor!
Please include your first and second choice to ensure the fastest turnaround time. 6-10 weeks.
---
Re-Honing – $15
If we've already sharpened your razor and it needs periodic re-sharpening before 9 months is up, this is a real bargain! We offer this discounted rate for letting us re-sharpen that razor you already sent us in the past.
Turnaround time is 2 business days.
---
Edge Finishing Options
We offer the following finishing options for your straight razor. If you want something other than the standard edge you must include a note specifying which finish you would prefer.
Standard Edge (our smoothest and most popular edge)
Scary Sharp (sharper, but harsher than our standard edge)
.125 Micron Finish (even sharper)
Shapton 30k
Coticule
Nakayama Kiita
Nakayama Asagi
Ordering Instructions
Choose the service(s) you want and add them to the cart
Please, NO Pakistan or Chinese razors (exception Gold Dollar/Double Arrow).
Insurance available during checkout (if you need more please contact us)
Ship us your razor(s). Suggested shipping method & mailing address.
You'll Like How Your Razor Shaves, We Guarantee It!
If you are not satisfied with our honing service, contact us within 30 days of receipt and we will refund you the price of sharpening only. Please include the reason you were dissatisfied and how we can improve.
See What Other People are Saying