Shipping Instructions
Below is our recommendations on shipping your razor to us safely.
Step 1:
If you have a razor box, put your razor in it first. Wrap your  razor in bubble wrap and tape it securely. We recommend bubble wrap, but if you cannot find any, multiple layers of newspaper will work as well.
If you don't have bubble wrap or prefer a bubble mailer, that works equally well. Some people prefer to use both a bubble mailer and the USPS flat rate box or other small cardboard box for added protection.
Step 2: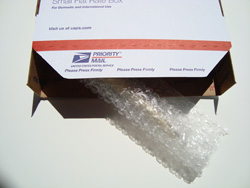 Put your razors in a box. A bubble mailer will also work. Use additional packing material (crumpled up paper works well) to make sure the razors don't roll around. A USPS small flat rate box is perfect for shipping razors. We recommend buying shipping online to save time and money!
Step 3:
Include any special instructions along with your name, address, & contact information or a printout of your order confirmation from paypal or google cart. Seal the box.
Step 4:
Mail to:
A Sharper Razor
3961 E. Chandler Blvd Ste 111-210
Phoenix, AZ 85048