Vie Long is normally known for their horse hair brushes. However, they also make excellent badger hair brushes. What is also interesting is that they utilize a unique method of knot making. According to my source and upon examination, the knot is tied, then glued directly to the handle and a metal cap.
This brush specs are as follows:
20mm nominal knot (18mm actual)
47mm loft
Lucite handle
42 grams
Initial Thoughts
This brush looks fantastic! The lucite handle is quite simply gorgeous! I love the swirl and the red top. It also fits very nicely in my hand. The short loft and short handle are very well combined and make a very proportional brush. The hairs feel soft on my hand.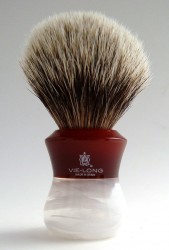 Softness
The silvertip used in this brush is top tier. That's really all the substance I can add.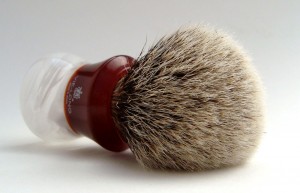 Well, if you want to read more, then I suppose I can type up some more words. When dry, the silvertip hair feels very nice on the skin. It is in the same league as the best silvertip hairs available. Upon very close examination, there appears to be evidence of a light bleach that these tips may have gone through. However, it is not to the same level as Shavemac's bleaching. I'm a little less impressed, but it does not detract from the softness of the hairs, which is excellent.
Density/Flow
The density of the brush is medium/average. The knot does not bloom very much. Possibly due to thick shafts, possibly due to the construction method. Probably the latter. Regardless, the construction keeps the brush from blooming and spreading the hairs everywhere. Instead, the brush keeps a nice density and flow through.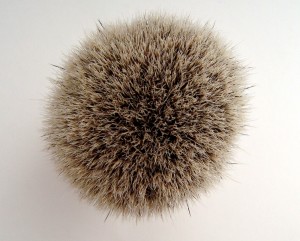 The hairs are nicely spaced apart and feels very nice on the face. It feels like a top tier brush. The flow through is likewise very good. No problems whatsoever. The brush holds a good amount of lather.
Construction
Moving the bristles to the edge, you can clearly see a metal holder at the base of the knot. Really not noticeable unless you look. It has to do with Vie Long's construction. The knot is well made, and well shaped. I haven't lost a single hair reviewing this brush.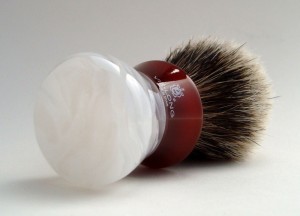 The lucite handle is likewise well made. While I can feel the fusion point between the top & bottom sections, it does not detract from the handle in any way. It is well polished and well made.
Final Thoughts
 This is an excellent brush. The hairs are soft and the density is good. I love the look of the handle. It also feels very good in the hand. Very ergonomic and gives the user a good handle on the brush. At only $100, this is not a bad buy given how stunning it is. You don't get much badger for your money, but it sure looks great!