New Silvertip Badger Shaving Brushes by Wet Shaving Products. The Stubby has been retired and replaced by the Prince. A new handle inspired by the Kent BK4 is being used in the new Monarch models. Made from faux ivory acrylic resin, it's pretty nice. Also added is a budget or gift brush made out of black badger & hand selected wood.
But the most exciting new development is the new hair being used. The badger brush hair grades have changed. The old hair has been bumped down to Best Badger. In it's place is the new silvertip hair. Of the same hair grade as top end European brands. Ranking at the very top is the brand new Super Silvertip hair. Added are two grades of 2-band badger hair: Super Badger and Finest.
Of course this post wouldn't be complete without a description of how each brush performs.
Black Badger in Wooden Handle
The black badger brush is a great beginner's brush. The tips are a little scratchy, but for the most part this brush has soft tips. For best results, use with paintbrush strokes, not circular strokes. Bowl lathering is probably best. At only $23, this is a great Christmas gift! Plus, it comes with the gift box!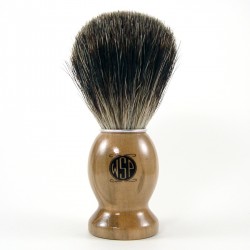 Prince in Silvertip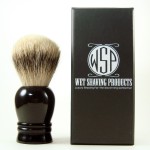 The Stubby was not a perfect brush by any means. Although it got great reviews and performed exceptionally well, it had its issues. Most notably a noticeable glue bump that led to the bifucation into two models, normal and extra firm. The glue bump brought down a near perfect brush to just a good brush. In addition, the first generation had logos that wiped off too easily. Finally, no box. Not really an issue, but we weren't happy.
The Prince has fixed all of that and more. Gone is the annoying glue bump. The logo is bullet proof. The new boxes look and feel thick, and sturdy. They also look pretty good if I may say so. But that's not all. A higher grade of hair is being used as well as more hair (about 15% more dense).
The new hair is pretty amazing. The old hair was pretty awesome and comparable to some top brands. This hair is truly top tier. Luxuriously soft and densely packed. A great brush for face and bowl lathering.
All of these small incremental improvements combine to make a true competitor to the top brands. And at a fraction of the price! MSRP – $60
Prince in Finest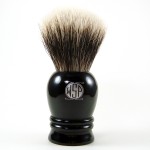 New for Fall 2012, the Prince in Finest is one of two new models featuring two band badger hair. Not to be confused with Frank Shaving, TGN, or other Chinese brand Finest, this stuff is truly quality hair. Set at a fairly low loft of 46mm, this brush is perfect for the die hard face latherer looking for the softest of tips with plenty of backbone. Just the tiniest step down in terms of quality, this Finest badger hair is some pretty amazing stuff.
In terms of face feel, the Finest is pretty hard to distinguish from the Super Badger. It feels gel-like soft on the face without even the tiniest hint of scritch or scratch. When using circular strokes, you can really feel the backbone of each individual hair. You can really feel it exfoliate if you push down hard enough. Or, you can let the soft tips luxuriously build the lather on your face. A most excellent brush. MSRP – $60
Monarch in Super Badger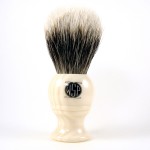 Ah, the Monarch line. Truly the crown jewels of this new generation of brushes from WSP. Aptly named, these brushes could possibly be the Kings among the brushes. We haven't held anything back. From the dense faux ivory handles made from acrylic, to the absolute highest quality badger hair, these brushes are the best brushes money can buy. The super badger definitely does not disappoint.
Densely packed with some truly high quality badger hair, the Monarch in Super Badger feels amazing. Just the right amount of backbone combined with the most luxuriously soft tips means a fantastic shaving experience. While I've already stated that I am hard pressed to tell the difference between the Super Badger and Finest, the Super Badger is the slightest bit more… luxurious. Softness is so close that I cannot say one way or the other, but the Super Badger simply feels more luxurious than the Finest. Strong backbone, luxuriously soft tips, and just enough flex equals a fantastic brush.
At $74.99, this brush is a steal of a deal.
Monarch in Super Silvertip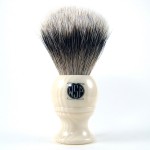 Finally, we come to the true King amongst kings. The Monarch in Super Silvertip. If you've been keeping up with WSP news and reviews, you'll know that this is some special hair. Special indeed. So luxuriously soft and yet with incredible resiliency, this is some truly amazing hair. It is so good, you aren't going to be able to find this quality hair for less than $350.
So how does it feel? It feels like luxury. Like a cloud on my face with some incredible resiliency and backbone for silvertip hair. The resiliency of the individual hairs is like no other silvertip hair. It has an incredibly small bloom. It also stinks to high….. Get past that and you are rewarded with a truly amazing shaving experience. Luxury is the only word that comes to mind.
If you are at all interested in this brush, I behoove you to purchase one immediately as future shipments are in question. WSP will keep the $74.99 price tag for this shipment, but no word yet as to future pricing. Only 100 of each model was produced this run.