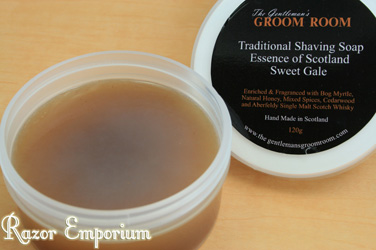 Essence of Scotland by Gentleman's Groom Room is a glycerin based soap from the other side of the pond. Available at Razor Emporium. I was given a puck of this soap to review. After lathering up for a few times, here are our thoughts.
This soap is extremely easy to lather with. Just like a good glycerin soap should, the lather was easy, quick, and thick if I wanted it to be. Shaving with it was pretty typical of very good quality glycerin soaps. Using the right combination of water and soap, you get a pretty darn good shaving experience. However, tallow based soaps are still better. I have yet to come across a glycerin based soap which provides the same level of cushion and glide as a true tallow based soap such as Tabac.
The box is a simple design. A plastic tub with a screw on top. Very convenient for storage. It doesn't require the consumer to purchase a "luxury wooden soap bowl" or a superior pyrex bowl just to keep the soap fresh. I really love soaps who provide you with their own storage bowls. While this probably isn't the greenest option, it sure is convenient.
The aromatics are the real strength of this soap. Just as advertised, from the moment the lather hit my face, I felt as though I were shaving in a Scottish gale. No, seriously, it smelled as though I were shaving in a forest. The fragrance was sweet smelling, but woody. It was fresh, with a hint of citrus. All in all, a great scent. I definitely recommend this fragrance. It also tends to stay with you for a while too.
The value is quite good at just under $20 for 120g. While not quite as great a value as Tabac, the fragrance and included bowl make up for the price discrepancy. In addition, 120g should last you at least a year, probably two or three.