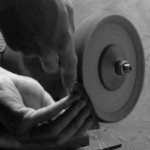 Our Razor Restoration Service will take your razor from dull to amazing! We start by sanding off any rust, tarnish, and small pits. Then, to properly polish the steel, we use specialized compounds and rouges to safely polish the afflicted metal. The result: a beautiful new surface that is polished to a near mirror finish- making your straight razor look clean and new. This process requires time, patience, and an understanding of metallurgy in order to safely maintain the temper and integrity of the steel – preparing your razor for the next step: True Honing
Click Here for an Illustrated Tour of Our Straight Razor Restoration Service
Custom Scales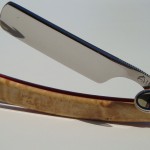 Tired of the same boring old black plastic scales? We have just the solution! ASR now offers custom razor scales made from wood, horn, linen micarta (coming soon), or bone. These scales are custom fit to each razor – ensuring the correct balance and performance.
Pinning included in price. Wood scales come with a CA finish if possible, otherwise a water resistant oil finish is applied. Horn and bone scales are buffed to a high luster.
You can choose from: Bone, Horn, Madrone Burl, Spalted Crotch Maple, Redwood Burl, Walnut Burl, Rosewood, Orange Paduak, Blackwood, Cocobolo, Purpleheart, Bubinga, Narra, Bocote and Zebrawood.
Ordering Instructions
Select the service you need and click add to cart.
Add any desired insurance and check out via our secure partner site.
Return shipping is a flat $5.65 for US Priority Mail & First Class International (up to two razors).
If purchasing scales, please include a note with your 1st, 2nd, & 3rd scale material choice.
Ship us your razor(s) and include your contact & order information.
Custom Scales & Straight Razor Restoration Services
Turnaround Times
Buffing/Restoration/Pinning – 1-2 weeks
Rescaling – ~4 weeks
***The above are estimates only.
Gallery of Custom Scales